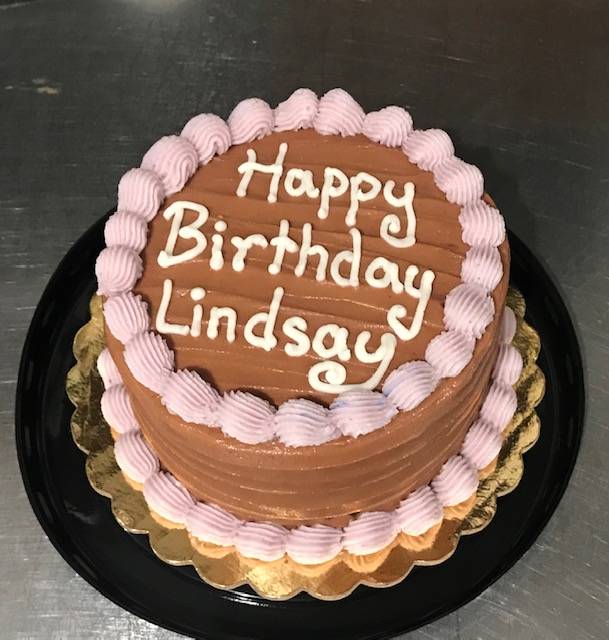 Basic 4" Cake with Message (can be ordered with a rose instead, but not both)
Required Notice: Next Day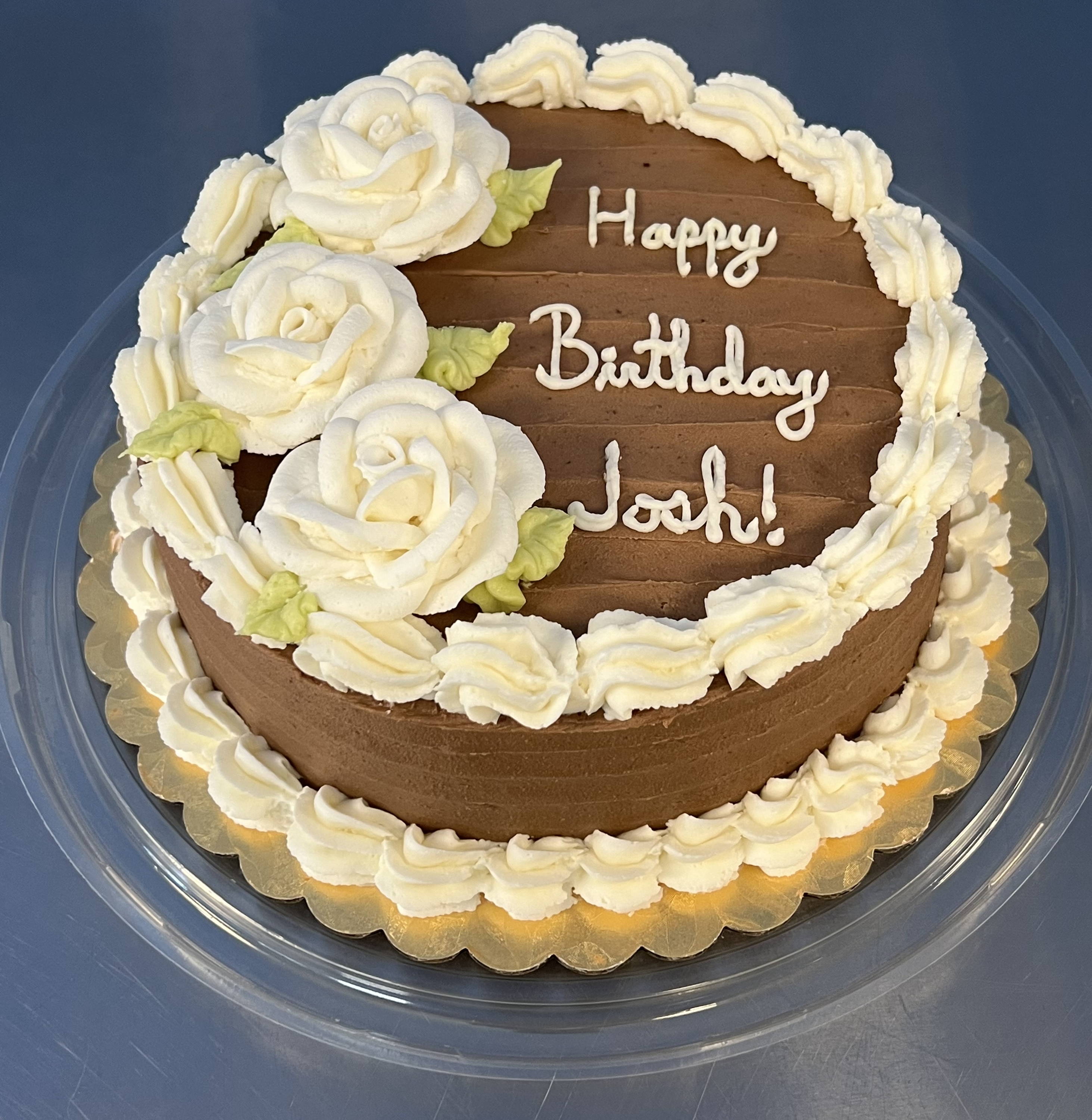 Basic 8" Cake with Roses and Message
Required Notice: Next Day
---
---
Basic Cake Pricing
Basic cakes are classically decorated with either a message, flowers, or both.
Our cakes come in three sizes
4" round cake serves 1-2 people ($35): Either a flower or a message
8" round cake serves 8-12 people ($60): Flowers and a message
1/2 Sheet serves 32-36 people ($140): Flowers and a message
---
We make 3 sizes of cake at Starry Lane, choose which size fits your needs
4"- 2 round layers of cake with 1 layer of filling in between. This cake is perfect for 1-2 people, it also makes a fantastic smash cake.
8" - Our most popular cake size is made of 2 round layers of cake with 1 layer of filling in between. This cake will easily feed 8-12 people.
1/2 Sheet- This 16"x11" cake is perfect for feeding a crowd. It can be cut into 30-35 large slices or 54 small wedding cake slices
Step 2: Choose Your Cake Flavor
Choosing the right cake flavor is an important step in the cake ordering process. If you're ordering for young children we recommend going with a simple vanilla cake as sometimes the bolder flavors can be overwhelming. We can make any of our three cakes sizes in the following flavors.
Vanilla
Chocolate Devil's Food
Strawberry
Lemon
Espresso
Carrot
Step 3: Choose Your Filling
A good filling should compliment your cake flavor without overwhelming it. We fill our cakes with our homemade dairy free buttercream frosting. looking for something a bit more adventurous? We also have premium homemade preserve fillings for a little bit extra. What are some of our favorite combinations? Carrot cake with spice filling. Strawberry cake with lemon filling. Lemon cake with vanilla filling. Espresso cake with chocolate filling. Vanilla cake with, well, anything really.
Vanilla
Chocolate
Espresso
Lemon
Spice
Premium Fillings: +$5 for a 4" Cake, +$10 for an 8" cake, + $15 for a 1/2 sheet cake
Premium Homemade Strawberry Preserves
Premium Homemade Raspberry Preserves
Premium Homemade Lemon Curd Filling
Step 4: Choose Your Frosting
You can choose either vanilla or chocolate frosting for your cake. Want to up your game a bit? Our vanilla frosting can be dyed with our all natural vegetable food dyes for no extra cost!
We can dye our frosting the following colors: Pink, Blue, Green, Yellow, Orange
Please note that our vegetable food dyes are not strong bold colors. We are unable to achieve black, red, or any dark colors. Purple can be used as an accent but is not applicable for covering an entire cake.
Step 5: Decorate That Cake!
There are three choices for decorating your cake.
Basic Cakes: As described above our basic cakes are decorated with either a message, roses, or both.
Pre-Designed Cakes: These designs are more complicated then our basic cakes and can be viewed in our cake gallery. Each of our pre-designed cakes have set prices determined by the complexity of the design and the amount of time it takes our bakers to complete the decoration. To order a pre-designed cake please call the bakery at least one full week ahead of your pickup date.
Custom Cakes: If you're looking for something different then what you see in our gallery, we'd be happy to design something just for you! All you have to do is speak with one of our team members (619) 328-0500, and they will help you fill out a "cake inquiry" form. Our bakers will review the form, work up a design and pricing based on your request, and be in touch within a few days to discuss it with you. To inquire about a custom cake design, please call the bakery at least one full week ahead of your pickup date.
Basic Cakes require just 1 day notice. That means a basic cake ordered on Thursday could be picked up on Friday.
Pre-designed and custom designed cakes orders must be placed a full 7 days in advance. For example a cake placed on Saturday can be picked up the next Saturday, A cake placed on Sunday can be picked up the next Sunday. We sometimes have room for short notice basic cakes, but not often, so please place your order a full week in advance.
To place your order please call the bakery at (619) 328-0500. We do not accept cake orders by email, Facebook, Instagram, or other electronic means.
Step 7: You've Got The Cake! Now What?
To Refrigerate or Not to Refrigerate? That's the question.
Please do not refrigerate your Starry Lane Bakery cake. We repeat, do not refrigerate. If you put your cake in the refrigerator the cake will get dense and mealy (not at all appetizing). But not to worry! There's no need to refrigerate a Starry Lane Bakery cake. Our cakes contain absolutely no eggs or dairy, meaning that the ingredients are stable at room temperature and will not spoil or go rancid. That being said, please do not put your cake into direct sunlight or store it in rooms over 95 degrees F. Extremely high temperatures or direct sunlight can cause your frosting to melt.

Freezing?
Yes. You can definitely freeze your cake. Cakes freeze well for up to three months. To freeze, first place the unwrapped cake in your freezer for several hours, or until hard to the touch. Once frozen, wrap your cake up tight with plastic wrap, and tuck it into an air tight bag or container. Then, put it in the back of your freezer (where there are fewer temperature fluctuations). To thaw, simply remove plastic wrap and leave it out at room temperature for 8-10 hours.

The Proper Way to Cut a Cake.
You may not have gone to culinary school, and chances are you don't have much experience slicing up special occasion cakes at weddings and celebrations. That being the case, odds are, you've never had the opportunity to learn the correct way to cut a cake (yes, there is definitely a right way and a wrong way).

The wrong way is to take that knife and start slicing. We know that's how 90% of the population has been cutting their cakes, and that's okay. Really. It just isn't the best way.

The right way to cut a cake is to start with a very sharp chef's knife (that's the big one with the smooth edge, not the jagged one you use for tomatoes and bread). Get yourself a tall glass of hot water and a clean dry dish cloth. Dip the blade of the knife in the hot water to warm the metal. Dry the blade on the dish cloth. Now slice right through that cake like a hot knife through, well, buttercream. You can get 2-3 slices with the knife before you need to re-dip and dry again.

How Long is Too Long?
There is definitely an expiration date on your cake, it just happens to be a little less flexible then what you'd find at your grocery store. The shelf life of your cake can be effected by everything from the air temperature to the humidity levels in the room, and may vary by a few days in either direction. A good rule of thumb is "as long as it still looks and tastes good, it is good". That being said, there are a few guidelines we recommend you follow.

Your cake will be baked fresh the day you pick it up, as such we always recommend trying to pick it up the same day you intend to serve it to your guests. It will be at its freshest and tastiest. If you have to wait a day, that's totally fine. The cake will still be great the next day. If you have to wait 2 days, you may be pushing it a bit. The cake will still be really tasty and pretty, but it won't be as good as it was yesterday, and it defiantly won't still have that fresh-baked taste.

After 3 days you're well into leftover cake territory. You know the drill, it's good enough for you (hey, cake makes a great breakfast!), but it's not something you're going to be serving to guests. Anything after 3 days and it's going to start getting dicey. It may stay good for a few more days, but it also might start staling out (the weather is a fickle thing).

Do not keep your cake for more than 5 days before either freezing or tossing it. Remember, the fresher your cake is when you freeze it, the better it will taste once it thaws.