---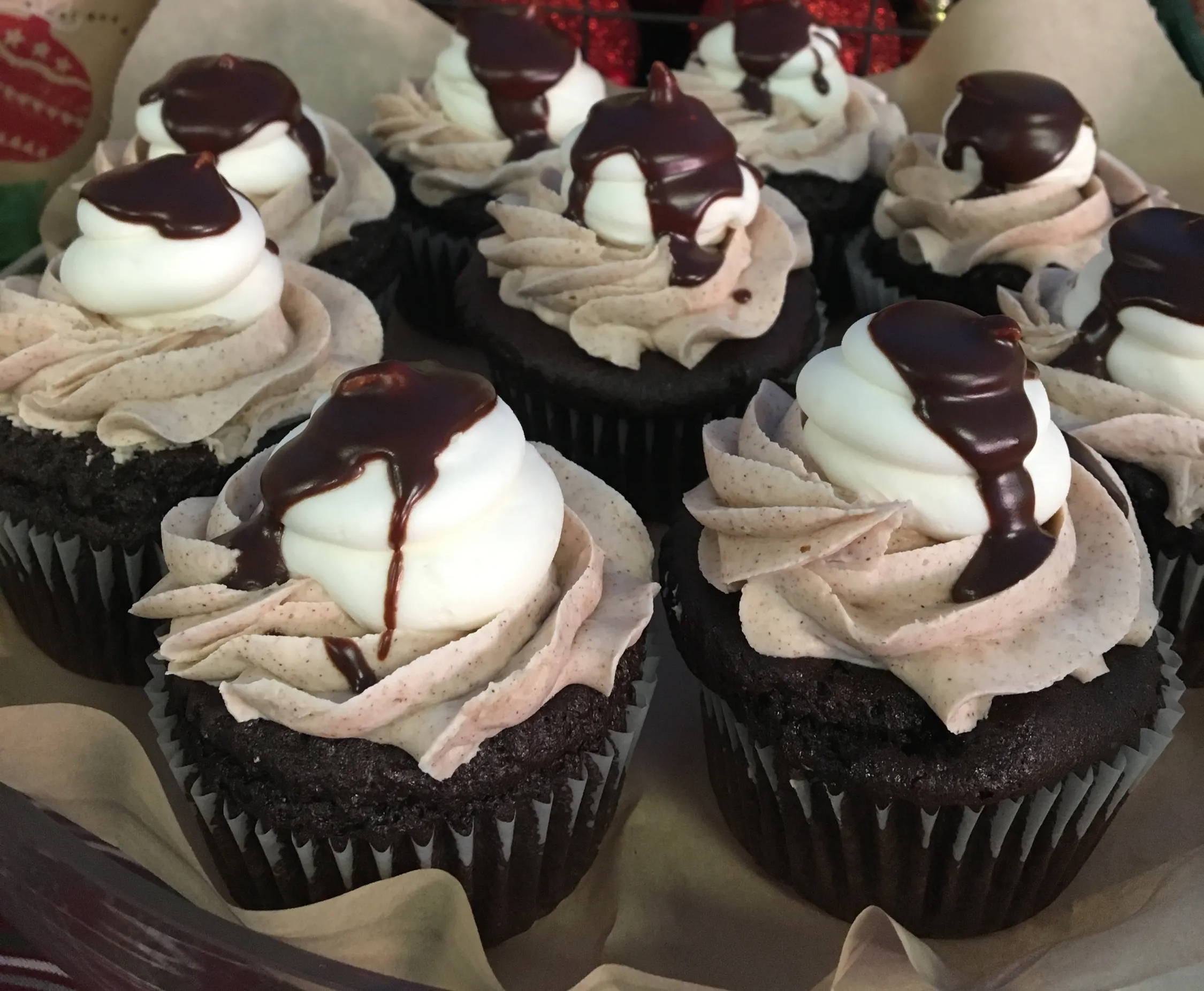 Hot Cocoa Cupcakes... $4.25
Rich devil's food cake, spicy cinnamon frosting, sweet marshmallow frosting, all drenched in dark chocolate ganache. This cupcake looks almost as good as it tastes!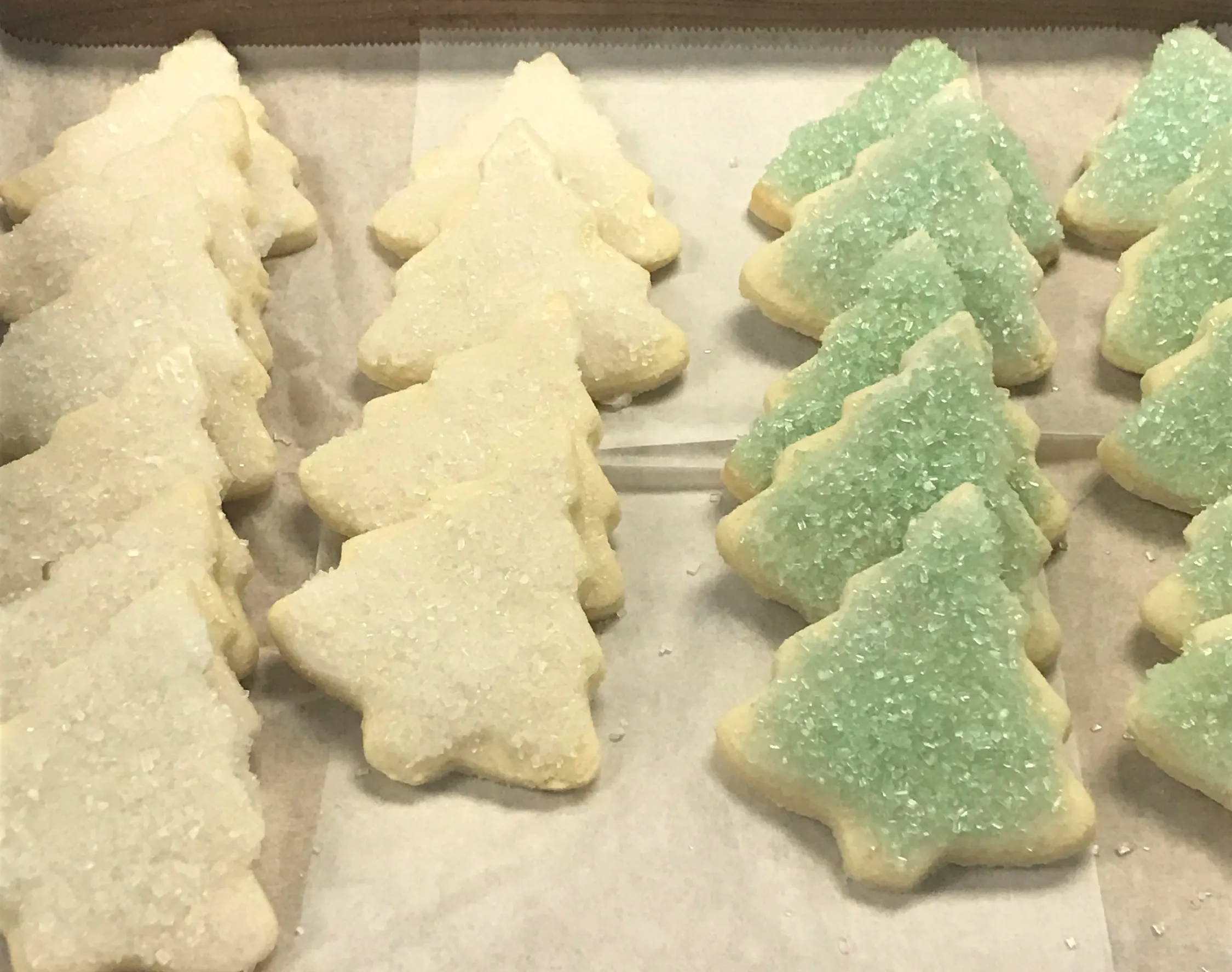 Holiday Sugar Cookies... $2.00
Sparkly green Christmas tree cookies are sure to make Santa happy this year. And we're sure he won't mind if you sneak a few. Also available in dreidel shape upon request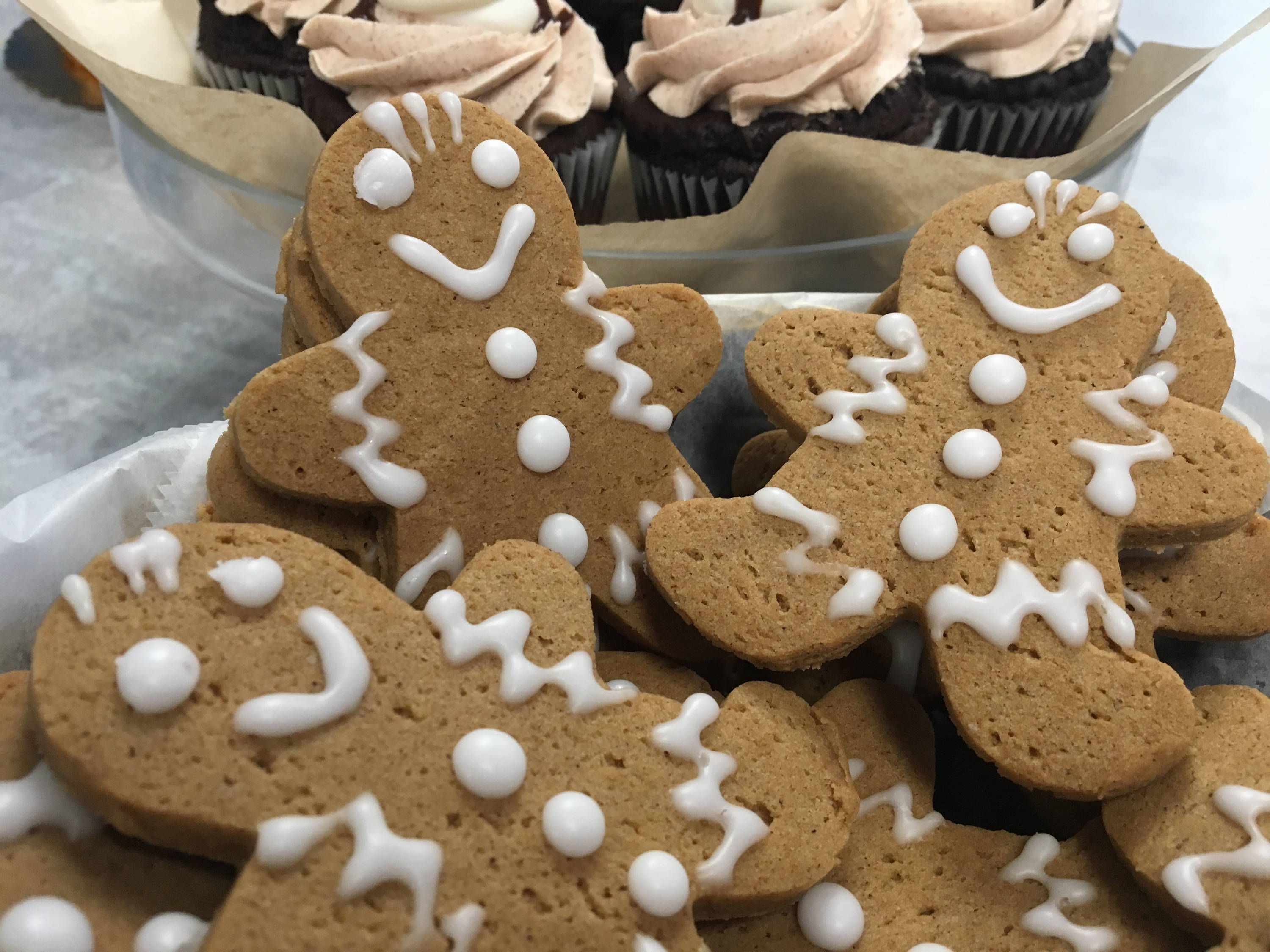 Gingerbread Men... $2.00
These gingerbread cookies are almost too cute to eat! The perfect combination of sweet and spicy, firm and tender, They're only here for a few short weeks, so don't miss out.
---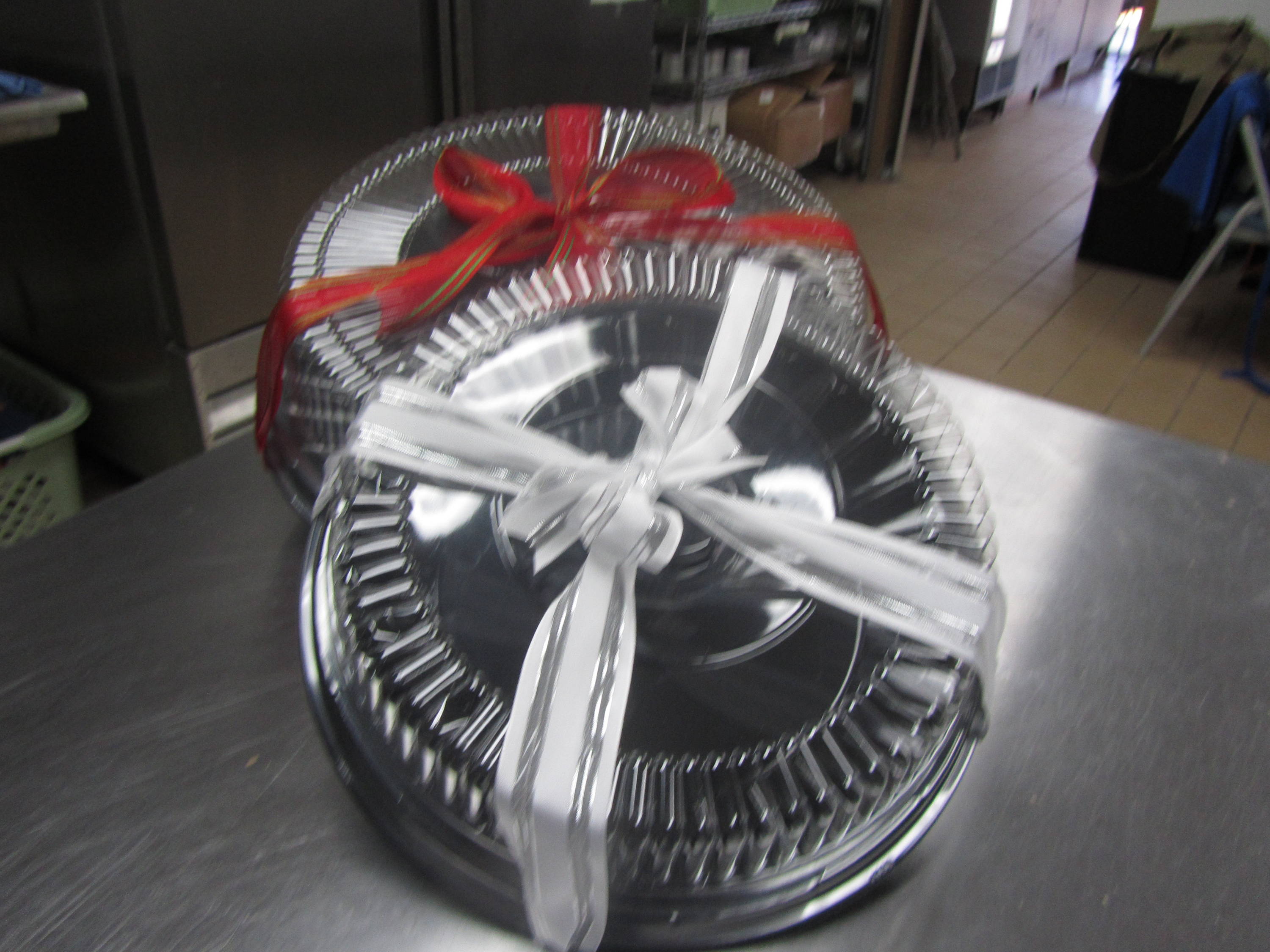 Cookie Platters... price varies
Small enough for 4, or large enough to satisfy 18, we've got cookie platters for all of your holiday needs. For details and pricing please visit our online ordering system.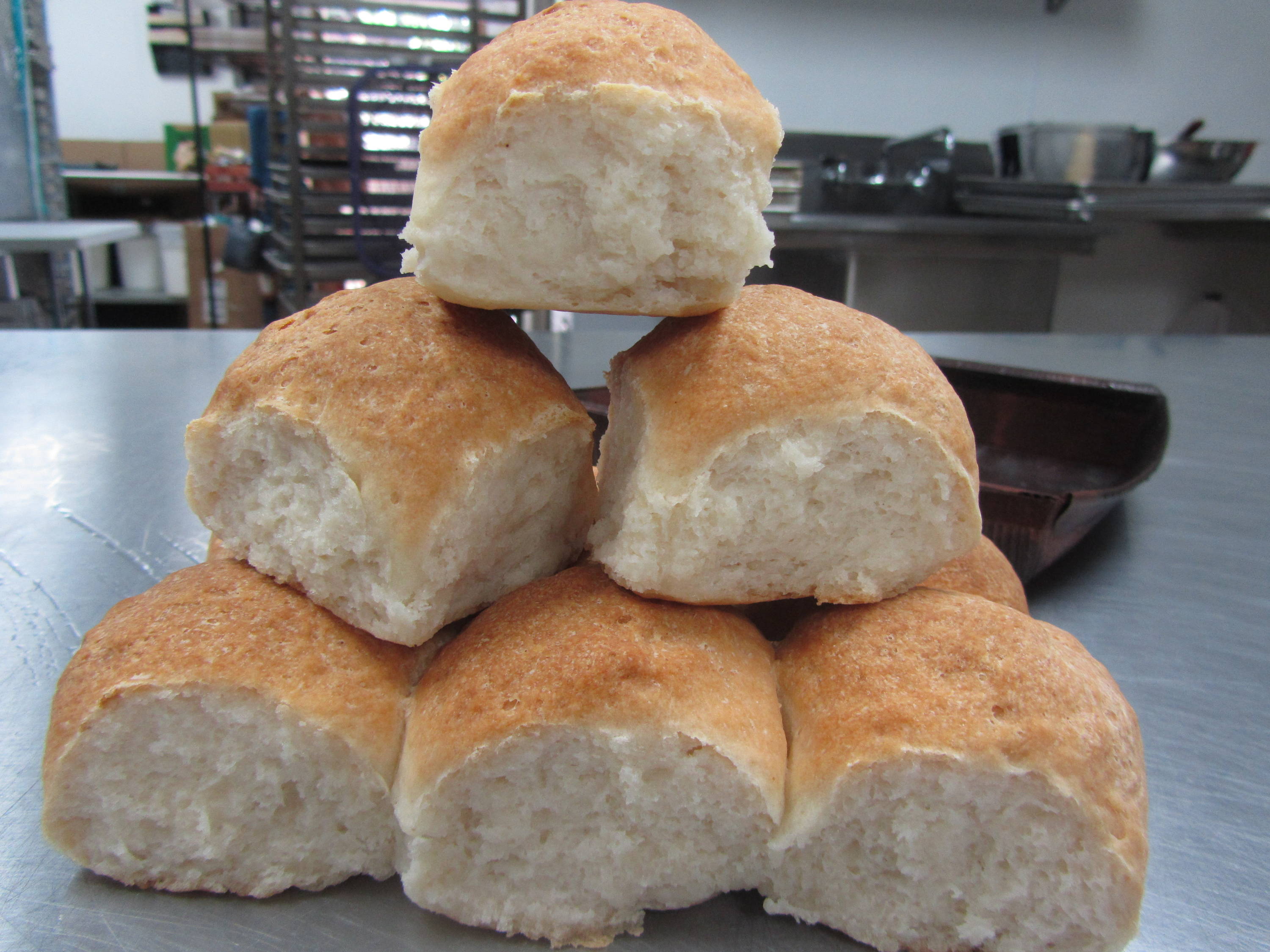 Dinner Rolls... $10.50
Don't miss out on your last chance to order dinner rolls in 2020! Available for order for December 24th only.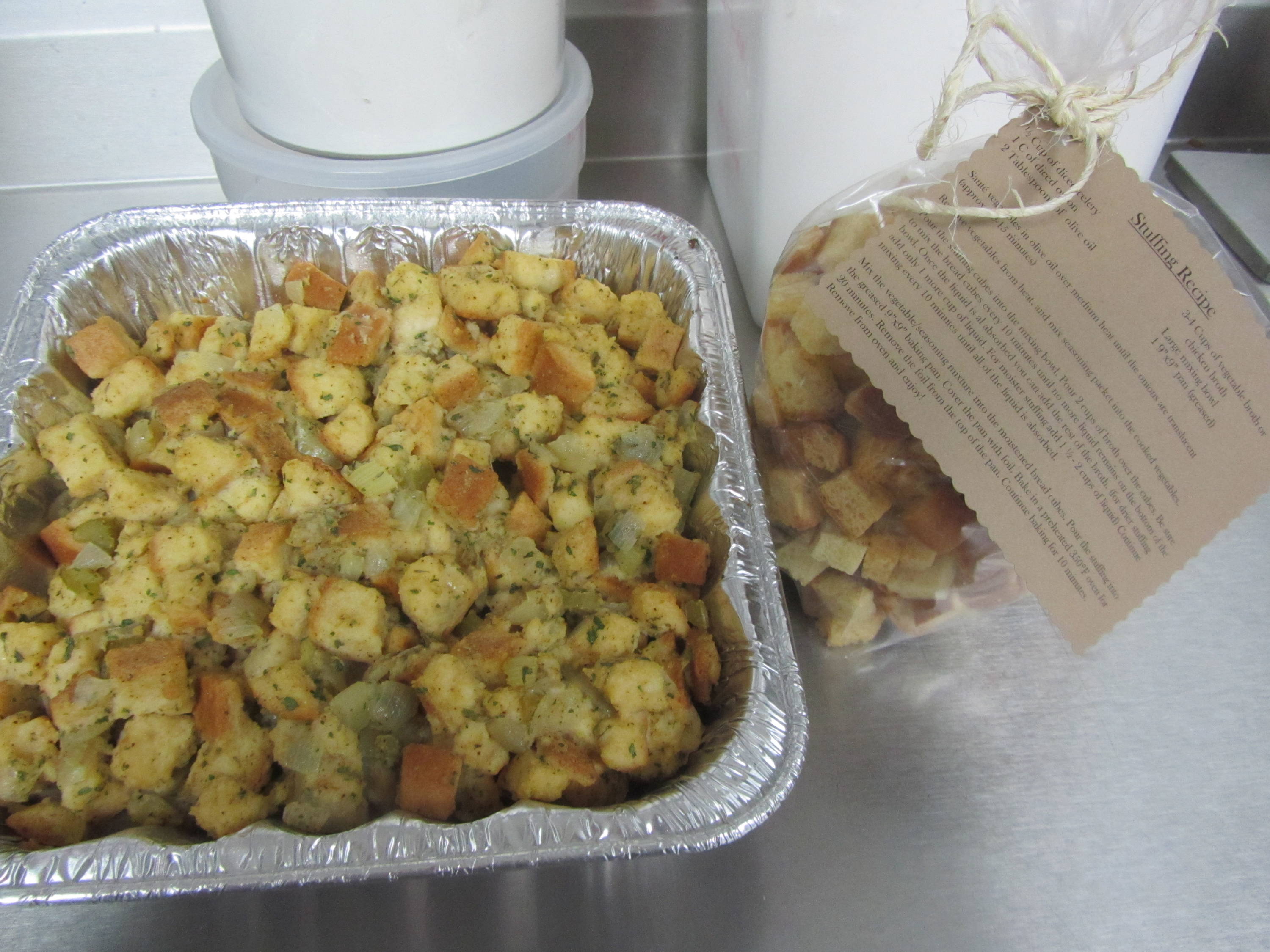 Auntie Mae's Stuffing Mix..$12.50
Easy to use. Delicious to eat. No holiday dinner is complete without a big bowl of stuffing.
Send Your Loved Ones a Safe and Delicous Treat This Year
The perfect gift for everyone on your list. Our hand crafted mix kits are expertly blended to produce delicious, allergen friendly, baked goods. Choose from Fudge Brownie, Sugar Cookie, Chocolate Chip Cookie, White Bread, and Dinner Rolls. Let's get baking!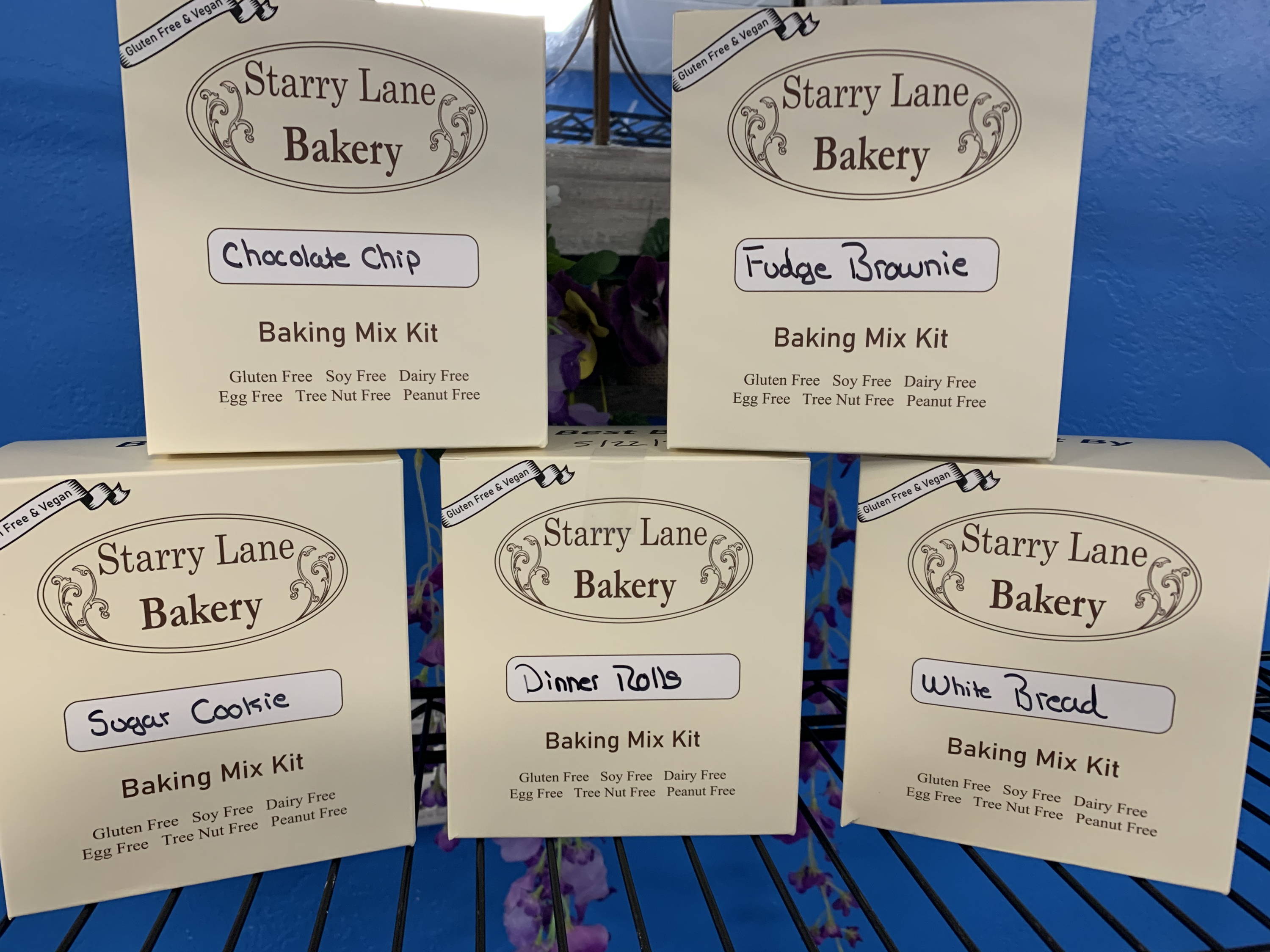 ---
Christmas Eve Ordering FAQs
Starry Lane Bakery will be open on Thursday December 24th 10am - 5pm for guests to pick up their Holiday orders. We will be closed 12/25-12/29
On 12/25 we will

only

be baking to fill orders. We

will not

have any extra items for sale. Please place an order if you would like any baked goods for Christmas Eve
The last day to place your order is Tuesday 12/22. Orders can be placed online until 8pm.
We will not be able to offer delivery on 12/24.
This is a very busy holiday for the bakery, and we try very hard to make sure everyone has the treats they need to celebrate in style. If you have a specific time you would like to pick up your order, please place your order early as we have a limited number of orders we can fill at any given time.
Everyone who places an order, will be given a confirmation number. If you don't have a confirmation number, we don't have your order.
If you have any questions about the Holiday, our products, or if you just want to say hi, please shoot us an email at Help@starrylanebakery.com
Placing Your Order Online
1) Pick out all of your goodies
2) Go to the shopping cart and fill out all of the required information. Please put both your fist and last name, your first name is lovely, and at least 6 other customers will have the exact same one.
3) Pickup Method: Please select "Christmas Eve Pickup ONLY".
4) Pickup Date and Time: You must choose Thursday December 24th. Other days may look like they're available, but they're not. If you choose any other day by mistake, please expect a phone call from us the next day to confirm that you meant to place it for 12/24. Pick up times start at 10am and end at 4:30pm. If you do not see a time available, that's because we have reached our maximum number of orders for that time.
5) Payment: All orders must be paid in full at the time they are placed.
6) Email Confirmation: You will receive an email confirmation from orders@starrylanebakery.com. The subject of the email will be: #(your confirmation number)-online store. If you did not receive this email confirmation your order did not process. If that is the case, please contact us at (619) 328-0500 or info@starrylanebakery.com
You're a busy person. You have places to go, and things to do. We get that about you, that's why we've put together this handy little guide so that you know exactly what to expect when you come to pick up your order. Our goal is to make the whole process as quick and easy as possible. The holidays are stressful enough, pie should make you nothing but happy!
Please don't bring the whole family. We will be asking our guests to line up outside the bakery a distance of 6' apart. We'll be keeping the line moving as quickly as possible, but we promise, this will not be a fun group activity.
Please don't come early. Our staff have hundreds of orders to bake, decorate, and package in a very short period of time. If you placed your order for a 1pm pickup, it will be ready at 1pm. We won't have your order ready at 11am, because we're busy getting all of the 11am orders ready then.
We will not have anything to sell on Wednesday 12/24. We are only baking what has been previously ordered by our guests. That's it. You cannot add anything else on when you come to pick up because we won't have it to sell. We're not even setting up our register because there won't be any transactions. Please make sure to order all of your items ahead of time.
Picking Up Your Christmas Eve Order in 3 Easy Steps
1) Arrive On Time and Line Up: Please join the line located to the left of the bakery door, and maintain a distance of 6' from the guest in front of you.
2) Get Your Confirmation Number Slip: One of our staff members will be monitoring the line to ensure proper social distancing. They will also be checking that each guest has an order ready to pick up. They will ask you for your confirmation number to check against their list. After confirming your order, they will hand you an awesome magic sticky note with your confirmation number on it. Hold on to the sticky note! In a few minutes it transforms into delicious baked goods.
3) Get Your Goodies: When you are called up to our pickup table place your magic sticky note on the counter top and then step back to the posted sign (it's 6' back from the counter). Our staff member will grab your order and place it on the table. After they step back they'll ask you to step forward and take your goodies.
That's it! Super east right? We think so too.
Auntie Mae's Stuffing Mix Instructions
Lost your stuffing mix instructions? No problem! It couldn't be easier to make Starry Lane's amazing Auntie Mae's Stuffing Mix.
You'll need: 1/2 Cup of diced celery, 1 C of diced onion, 2 Tablespoons of olive oil, 3-4 C of vegetable broth
Our directions and stuffing mix will help you make 100% top ten allergen free stuffing, but if you have fewer food restrictions, don't be afraid to add extra veggies, or meats and nuts of your choice.
1) Sauté the vegetables in the olive oil over medium heat until the onions turn translucent (approx 10-15 minutes)
2) Mix the spice packet provided in your stuffing mix into the cooked vegetables.
3) Pour the stuffing cubes into a large mixing bowl and pour 2 cups of broth over the cubes. Make sure to mix the bread cubes every 5-10 minutes until all of the broth is absorbed. Once the first 2 cups are absorbed, for dryer stuffing add only 1 more cup of broth, for moister stuffing, add the remaining 2 cups of broth. Continue mixing every 5-10 minutes until it is all absorbed.
4) Mix the vegetable/seasoning mix into the moistened bread cubes. Pour the stuffing mix into a greased 9x9 baking dish. Cover with foil. Bake at 350 for 20 minutes. Remove foil from top of pan and place back in the oven for another 10 minutes. Enjoy!
Auntie Mae's Stuffing Mix Ingredients
Rice, Corn Starch, Tapioca, Millet, Potato, Plant Fiber, Sugar, Salt, Emulsifier (poly-glycerol esters of fatty acids from vegetable fat, mono and diglycerides from plant origin), Ascorbic Acid, Water, Olive Oil, Sugar, Yeast, Salt, Black Pepper, Thyme, Rosemary, Sage, Garlic, Onion, Xanthan Gum (
Seasonal Item Ingredients
Pumpkin Cupcake (By Order Only Oct-Dec)
Granulated Sugar, Light Brown Sugar, Pumpkin Puree, Earth Balance*, Pumpkin, White Rice, White Rice Flour, Potato Starch, Brown Rice Flour, Palm Oil, Flaxseed, Powdered Sugar, Vanilla Extract, Baking Powder***, Xanthan Gum (Derived from CORN), Cinnamon, Nutmeg, Cloves, Allspice
Gingerbread Cookie
Earth Balance*, White Rice Flour, Corn Starch, Powdered Sugar, Water, Brown Rice Flour, Dark Brown Sugar, Molasses, Baking Powder***, Cinnamon, Ginger, Vanilla Extract, Cloves, Xanthan Gum (Derived from CORN)
Hot Cocoa Cupcake (In Store Dec-Jan)
Granulated Sugar, Earth*, Coffee, White Rice, White Rice Flour, CHOCOLATE**, Flaxseed, COCOA Powder, Potato Starch, Tapioca Starch, Corn Starch, Powdered Sugar, Palm Oil, Vinegar, Tapioca Syrup, Vanilla Extract, Baking Powder***, Baking Soda, Salt, Xanthan Gum (Derived from CORN), Natural Marshmallow Flavor, Cinnamon
Sugar Cookie
Earth Balance Soy Free*, Granulated Sugar, Water, Powdered Sugar, White Rice Flour, CORN Starch, Brown Rice Flour, Water, CORN Starch, Baking Powder***, Vanilla Extract, Xanthan Gum (Derived from CORN), All Natural Vegetable Food Dye
*Earth Balance Soy Free: Made with Expeller- Pressed Oils, Natural oil blend(palm fruit, canola, and olive oils), filtered water, pure salt, contains less than 2% of natural flavor(no MSG, no alcohol, no gluten), sunflower lecithin, lactic acid(non-dairy, derived from sugar beets), and colored with annatto extract (Contains CORN)
**CHOCOLATE: Evaporated Cane Juice, Natural Chocolate Liquor (Non-Alcoholic), Non Dairy Cocoa Butter
***Baking Powder: CORN Starch, Sodium Bicarbonate, Sodium Aluminum Sulfate, Monocalcium Phosphate