Cupcakes are a great way to share the fun with a large group. We offer two sizes of cupcakes; regular and mini. Our mini cupcakes are small 1 bite treats perfect for a classroom or child's party. While we do make 10 flavors of cupcakes daily, our custom cupcakes are available by order only, and allow you the freedom to mix and match flavors to design a cupcake that is just what you want. If you'd rather order one of our daily cupcakes, that's no problem! Just check out our Daily Cupcake menu page for more information on our set flavors.
The best thing about Starry Lane cupcakes is that you don't have to find room in the fridge! All of our cupcakes are designed to last for 2-3 days perfectly well right on your counter. Have extras? Pop them in the freezer until you get a craving.

Cupcakes orders must be placed 1 day in advance. To place an order please call the bakery at (619) 328-0500 or follow the online order link on our homepage. We do not accept orders by email, facebook, or instagram.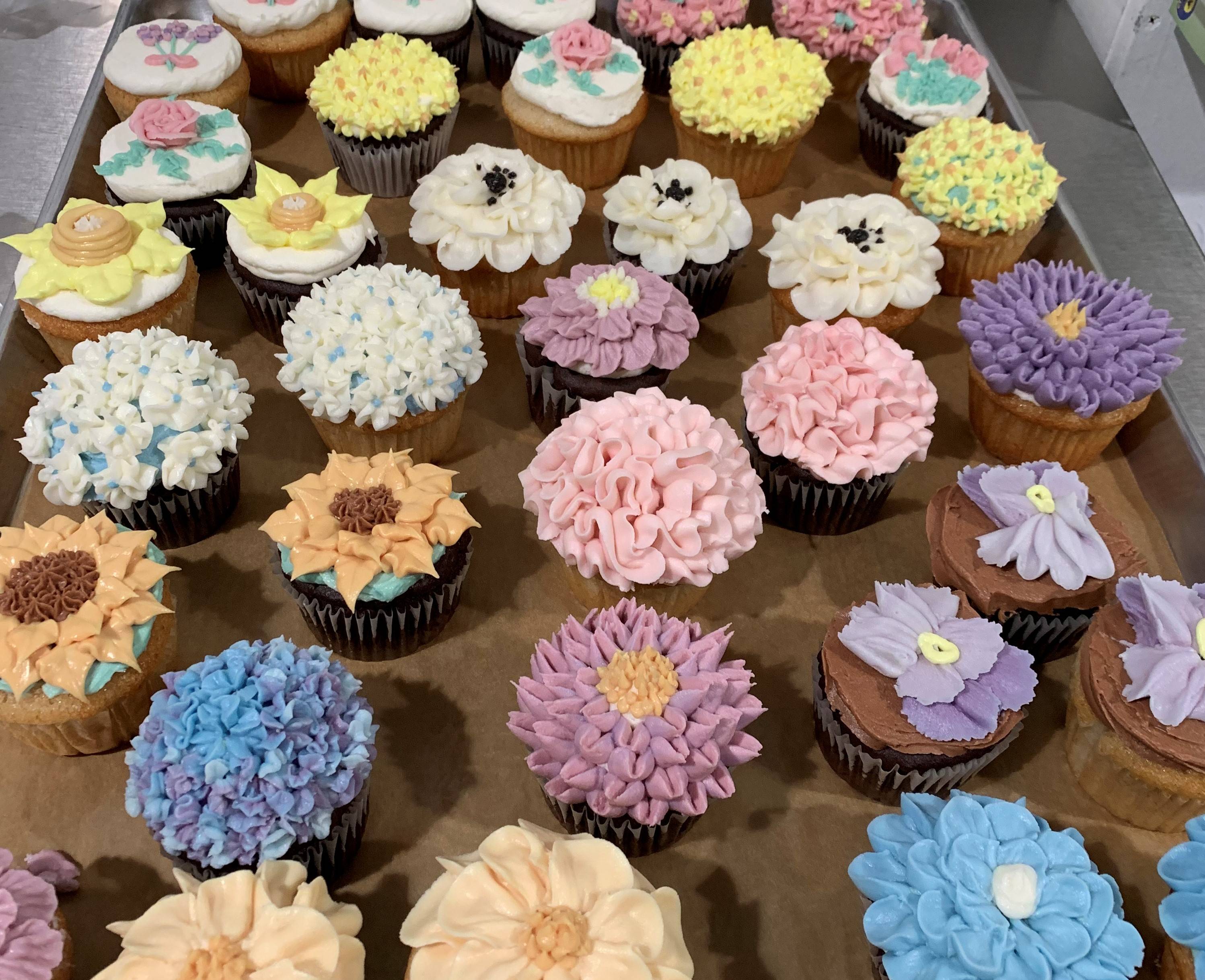 ---
Looking for some next level cupcakes? We've got special occasion cupcakes that are sure to make your event a hit. Check out our cupcake design gallery to see what we have to offer. To order some of our specialty decorated cupcakes, please call the bakery at (619) 328-0500 at least one day in advance.
---
Pricing
Regular size cupcakes with basic swirl frosting: $52.25 / dozen
other frosting designs will incur a surcharge per cupcake
Mini size cupcakes: $20 / dozen
---
5 Easy Steps To Picking The Perfect Cupcake
Step 1: Decide What Size Cupcake You Need
Regular- These handheld treats are perfect for an individual dessert. Substantial enough to satisfy, but not so much you have to share! Our regular size cupcakes are available with a variety of decorations (described in detail below).

A minimum of 6 cupcakes

is required for any cupcake order with a specialty design.

No minimum

is required to order cupcakes with a mix of cake and frosting flavors decorated in our basic swirl design.
Mini- Our mini cupcakes are very small, only 1 bite each, and great for a dessert bar, school event, or young child's party.

These cupcakes must be ordered by the dozen

, and flavors may not be split. Exp: 1 dozen vanilla cupcakes with lemon frosting and 1 dozen chocolate cupcakes with vanilla frosting. We would not be able to fill an order for 6 vanilla cupcakes with lemon frosting, and 6 chocolate cupcakes with vanilla frosting. Each dozen mini cupcakes must be the same flavor.
Step 2: Choose Your Cake Flavor
Choosing the right cake flavor is an important step in the cupcake ordering process. Please note that only our basic flavors are available in the mini size. For young children we recommend sticking with vanilla cupcakes, as sometimes stronger flavors can be overwhelming. For adults, well, the choices are almost endless!
Basic Flavors: Vanilla, Chocolate Devil's Food, Strawberry, Lemon, Espresso


Premium Flavors (not available in mini): Carrot, Grasshopper, Banana Split, Cookies & Cream, Campfire
Step 3: Choose Your Frosting Flavor
A good frosting should compliment your cake flavor without overwhelming it. For recommendations of cake and frosting pairings please don't hesitate to give us a call (619) 328-0500.
Frosting Flavors: Vanilla, Chocolate, Strawberry, Lemon, Espresso, Cinnamon, Mint, Spice
Step 4: Choose Your Decoration
Mini Cupcakes- Our mini cupcakes can be topped with a variety of different colored sprinkles at no extra charge. Due to their small size sprinkles and/or colored frosting are the only decorations we offer for mini cupcakes

Regular Size Cupcakes- We have many options of decoration for our regular size cupcakes. Both sprinkles and colored frosting are included in the basic cost of the cupcakes, any special design other then our basic swirl will incur a surcharge
Colored Frosting: We are able to dye our vanilla frosting a variety of colors. As we use only all natural vegetable food dye at Starry Lane we are unable to create any dark/bold colors such as red or black.

Sprinkles: Sprinkles in a variety of colors can be added to your cupcakes for no extra charge.
Piped Decorations: Some piped decorations are available for your cupcakes for a small surcharge. Please view our Cupcake Design Gallery for our specially decorated cupcakes. Looking for something we haven't made yet? Please call the bakery at least 1 week in advance and one of our team members will help you fill out an inquiry form for our bakers to review.
Step 5: Order Your Cupcakes
To order your cupcakes please call us at (619) 328-0500. We are unable to accept orders by email or through facebook or Instagram. All orders must be placed either in person, online, or over the phone.
1 day advanced notice is required for most cupcake orders. For a custom design not featured in our design gallery please call at least 1 full week in advance.