Need a special cake? Something a cut above the traditional birthday cake, but you're short on time? Our new line of Premium Cakes might be just what you're looking for! These elegant and delicious cakes are the perfect way to celebrate any special occasion.
Our Premium Cakes are 2-layer, 8" cakes, and may not be customized in any fashion. While we do plan on having these cakes available daily in the future, for right now they are being made to order only. We need only 1 days notice for a Premium Cake order, which can be placed over the phone, or online using the ordering link on our homepage.
We're starting with one Premium Cake (just in time for Valentine's Day), but rest assured, there will be more to come.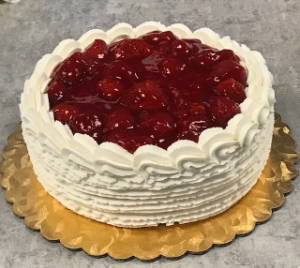 Strawberries & Cream Premium Cake
Lemon Blossom Premium Cake
$70.00
Our first Premium Cake is a real show stopper. Two layers of sweet vanilla cake sandwiched with fluffy vanilla frosting, and topped with fresh, home-made strawberry preserves.
If you love Lemon, than our Lemon Blossom Premium Cake is the cake for you! Fluffy lemon cake, with tart lemon curd filling, decorated in elegant pale yellow rossets with green leaves. It's almost to pretty to eat!
Due to the fresh preserves, theese cakes are best eaten the same day it's picked up, so we wouldn't recommend holding them to serve the next day.